Oil Palm Plantation
As a progressive conglomerate, WTK is steadily diversifying into oil-palm plantations. To-date, the total plantation land bank of the group (excluding public listed WTK Holdings Berhad) stands at approximately 70,000 hectares, spread out and located in different parts of Sarawak, out of which 40,000 hectares are fully planted and in production of fresh fruit bunches (FFB). WTK Holdings Berhad owns 25,000 hectares of land bank for oil palm plantation which is still under the development phase.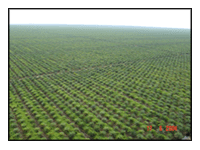 Palm Oil
WTK group also owns three oil-mills with a total production capacity of 130 metric tonne of FFB per hour. At present, the annual total production of FFB is 625,000 tonne. In coming years, our production is expected to be better with the larger matured acreage. WTK's palm oil operations have contributed substantial cash flow to the group over the years. To synergise and consistent with the group expansion programme and down stream development for higher-value addition of palm oil products, WTK group is planning to move into palm oil refinery in the near future. Our group's determination and intense focus in monitoring cost efficiency and increase productivity to ensure that all operations are run with reduced production cost and improved profit contribution. Our group's is now beginning to reap the fruits of its aggressive ventures into oil-palm sector over the past few years.

The Group's oil palm estates and crude palm oil (CPO) mills are currently embarking on initiatives to attain the Malaysian Sustainable Palm Oil (MSPO) Certification.

To enquire, please contact:
Datuk Wong Kie Yik
Chairman & Managing Director
WTK Realty Sdn. Bhd. (74536-H)